Fellow Los Angeles history buff "Richard R." recently found a very interesting webpage which details and summarizes various pieces of historical evidence pertaining to the location of the original pueblo and its plazas. Yes, that's "plazas," plural.
Article from the website La Nopalera
.
tl;dr version – It turns out there have actually been
three
different locations for
La Plaza de Los Angeles:
• The first plaza dates to the founding of the pueblo in the 1770s. It is believed to have been located to the south and east of the present Plaza. Constructed on low ground adjacent to the Los Angeles River, the first plaza was obliterated by the Flood of 1815.
• The second plaza and the re-built pueblo were re-located to higher ground a few dozen meters to the north and west of the present Plaza Church, on the west side of Main Street. The approximate location of the second plaza is shown on the map below: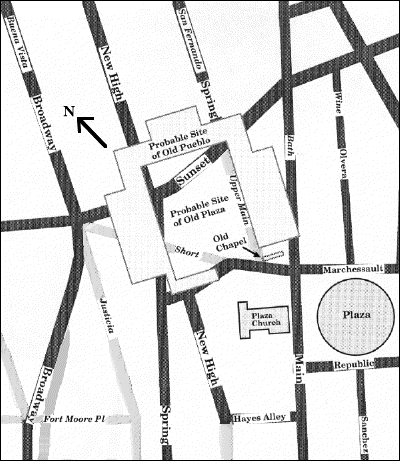 Map by Howard Hurtig Metcalfe from his webpage La Nopalera.
The second plaza was in existence for only a decade or two, though, from the post-Flood of 1815 period to c.1830, when it was moved to its present location east of Main Street and south of the southern terminus of Wine (Olvera) Street. This is "La Plaza" that all latter-day Angelenos are familiar with. The general assumption that La Plaza has always been located where it is today, however, is now known to be demonstrably incorrect. Somewhere along the line, the knowledge that there had been two historical locations which pre-date the present Plaza was mostly forgotten.
Some general awareness of the location of the second plaza lingered on into the mid-20th century, however. In 1950, the "Plaza de Los Angeles, Inc." submitted this re-development plan to the State Park Commission.
N.b.
the yellowed label pointing to the "Original Plaza" at what would then have been the northwest corner of Main and Marchessault Sts.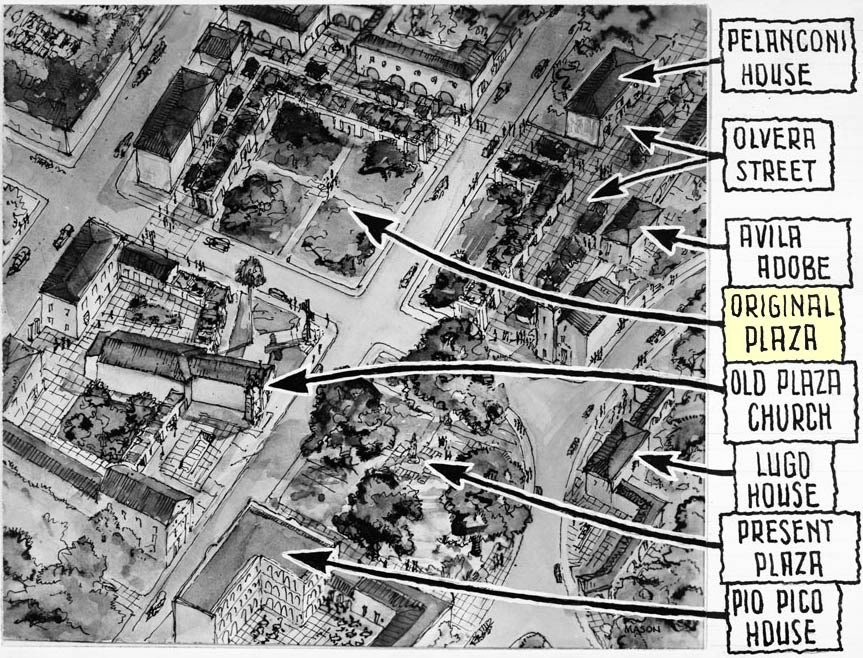 Courtesy USC Digital Library-Los Angeles Examiner.
"Richard R." also found this interesting account in the Department of Water and Power database hosted by the Los Angeles Public Library:
Historical Photo Collection of the Department of Water and Power, City of Los Angeles.
It should be noted that
the docent website of El Pueblo de Los Angeles
does, in fact, acknowledge that the present Plaza is actually Los Angeles's third such town square. It was certainly surprising news to me, though, and I'm sure it remains an unknown fact to all but a handful of knowledgeable L.A. historians.
And what now occupies the former site of the second plaza? What else but
a parking lot!
View Larger Map
A big thank you to "Richard R." for his excellent historical sleuthing!