In May, I posted
this entry
about the image of Los Angeles below. It's a
photochrom
colorized photograph that was taken by the
Detroit Publishing Company
in 1899-1900 from the tower of the old County Court House.
Wikimedia Commons.
Well, it just so happens that I recently found two photos taken the same day from the Court House tower showing the complementing views to the east and west, as well. The panorama is complete!
This is the eastward view (actually more south-eastern). Today, City Hall would be in front of and to the left of us here, and looming very large.
Click image for source, and an enlargement.
And this is the westward prospect. Today, the skyscrapers would dominate the center and left of this picture; the Walt Disney Concert Hall would be visible near the upper right.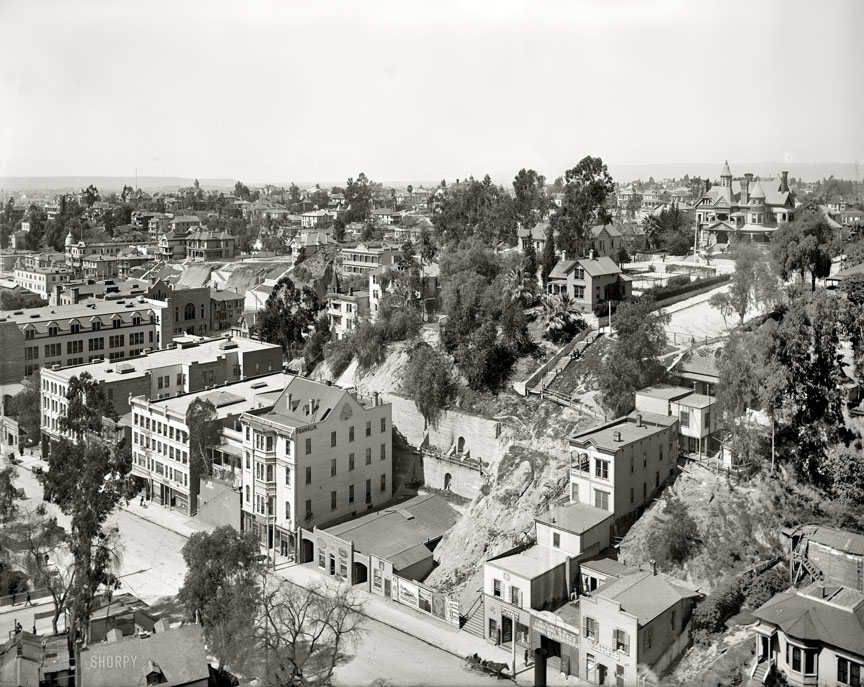 Click image for source, and an enlargement.
I especially like the latter view of 1900 Bunker Hill. The neighborhood is still very much in its heyday. Note that the
Court Flight
funicular railway (1904) has not yet been built on the dirt slope in the foreground at center right. And, in case you're curious, that large, remarkable Victorian residence at Court and Hill Streets is the
Bradbury
Mansion (1887-1929).
Do click on the images and have a look at the enlargements. The detail that can be seen is really quite impressive.