This recent post by Glen Creason on Los Angeles Magazine's City Think blog introduces readers to Frederick Law Olmsted, Jr. et al.'s grandiose "Major Traffic Street Plan" of 1924.
I first acquired this map out of curiosity, mostly because some of the street routes and parkways proposed in it looked significantly different than the ones Los Angeles eventually ended up with.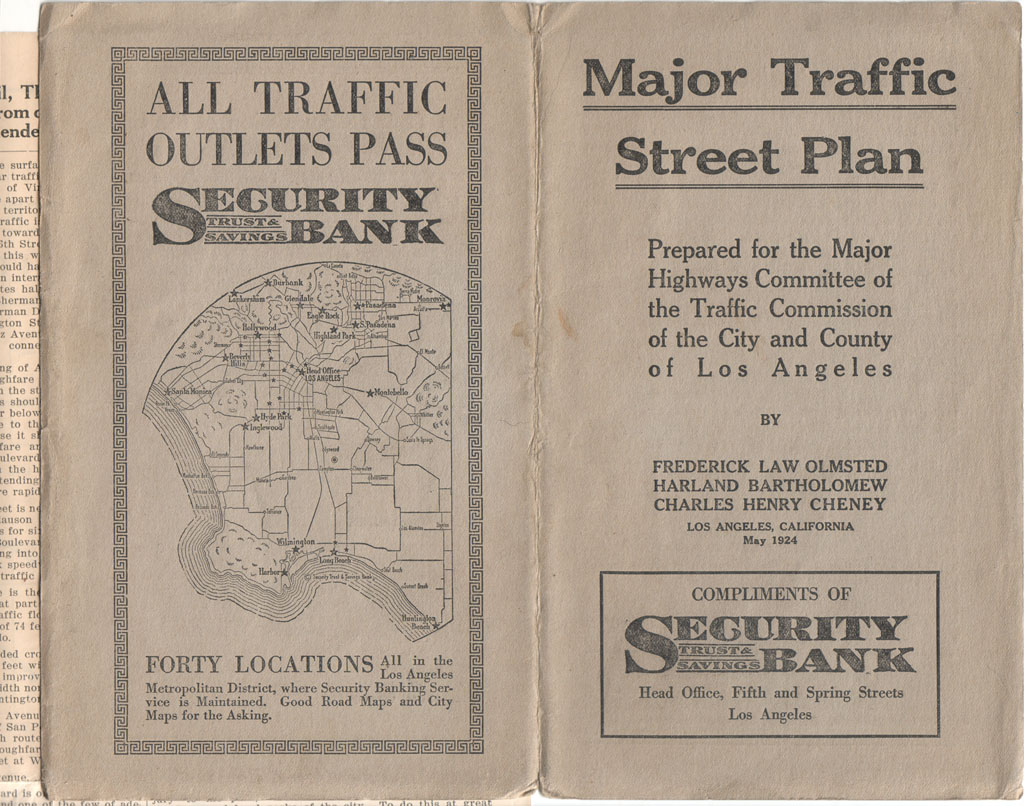 Here's the basic mission statement of the plan.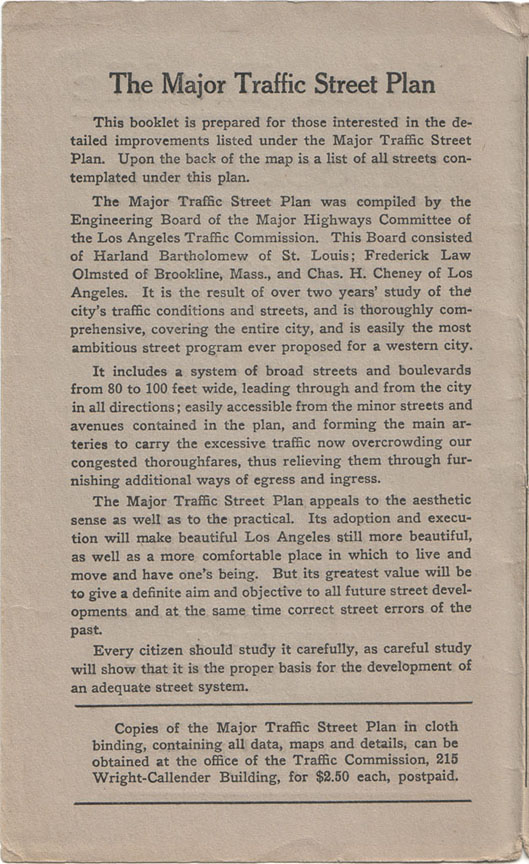 The legend (the map is far too large for me to scan in its entirety, unfortunately):
Several new scenic arteries were proposed, one of which was to be called "Arroyo Seco Parkway" (described in the plan as a "radical thoroughfare"). That and "One Hundredth Street" (Century Boulevard) seem to be the only major roads from this plan that ended up being built, though.
One of the rejected proposals was for the Downtown portion of First Street to be widened to 150 feet, and then extended northwest up to Hollywood – clearly a 1924 approximation of what would become the Hollywood Freeway a generation later.
Another interesting proposal was a road called the "River Truck Speedway," which was to run somewhat adjacent to the Los Angeles River and was intended solely for use by commercial vehicles. Obviously this idea didn't get past the drawing board stage, either.
Other proposed roads that were never realized were the "Hollywood-Palos Verdes Parkway," the "Silver Lake Parkway," and parkways for portions of Wilshire Boulevard (west of Crenshaw), Cahuenga Avenue, Riverside Drive, Franklin Avenue/Los Feliz Boulevard, Griffith Park and Mulholland Drive.
The Olmsted plan was admittedly visionary in foreseeing the need for wide urban roads that incorporated a variety of modes of rapid transit, but it was probably for the best that it was not adopted. The present system of freeways, although not without its own inherent problems, turned out to be a much better fit for Los Angeles's ever-evolving traffic challenges.