I told you all that I had something special in the works. Well, here it is at long last – a Christmas present to my late mother...
One of the prime reasons I'm so interested in Los Angeles history is that my mom lived and worked in the city from 1934-1951. She moved there immediately after high school to attend
Woodbury College
, from which she graduated with her secretarial degree at the top of her class in 1936 at the ripe old age of 18. This was her Woodbury's senior class portrait.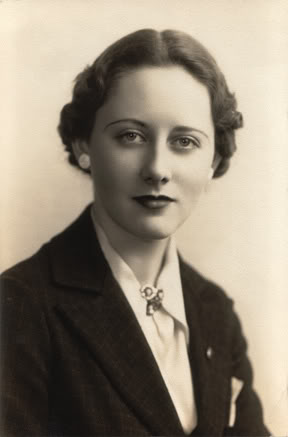 Link to original photo on Flickr.
Mom started out big in the L.A. business world, securing her first position at the Huntington Land Company. She didn't stay there long, though. The following year, her dream job came her way, when she became the first General Secretary of the newly-founded
Los Angeles Civic Light Opera Association
, working directly under its founder, impresario
Edwin Lester
.
Here she is in her office in
The Auditorium
in April, 1938, dealing with Ed Lester's daily mountain of mail.
Link to original photo on Flickr.
(
N.b.
, behind her head is the seating chart for Philharmonic Auditorium. To see it in greater detail, follow the flickr page link directly above and click on the Download icon and select 'View all sizes' for a high-res enlargement.)
The very first production of the LACLO was a musical adaptation of the life of classical composer Franz Schubert called "Blossom Time." Here's Mom's listing in the play's credits.
And here is a photo from the opening night of Blossom Time at Philharmonic Auditorium, June 16, 1938. Dead center is the world-famous actor
Edward G. Robinson
. Two rows back and to the right, the man picking his nose is none other than
John Barrymore
, and next to him is his wife,
Elaine Barrie
. At far upper left is Edwin Lester himself. And who is that smiling woman next to him? Ed Lester's date on his triumphal opening night was my very own mom!
Link to original photo on Flickr.
During the operetta's rehearsals, Mother became good friends with the star of Blossom Time: the famed opera baritone
John Charles Thomas
, who played Schubert in the LACLO production.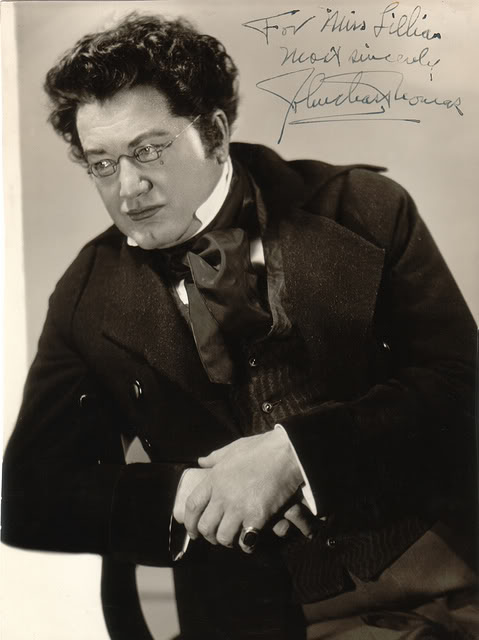 Link to original photo on Flickr.
Later, from 1942-1946, Mother would become J.C.T.'s private secretary during the singer's wartime years in Hollywood with the Westinghouse Radio Players.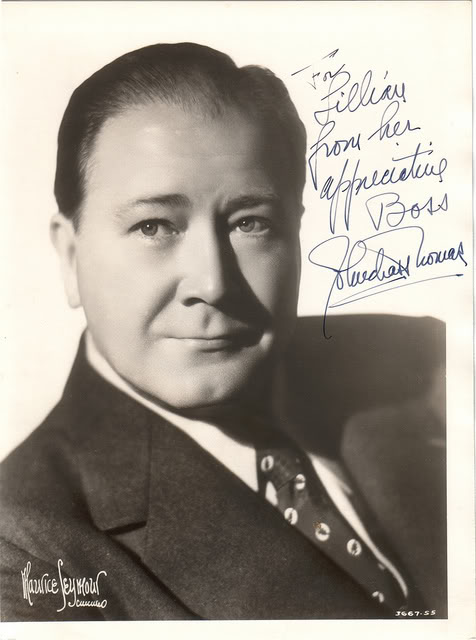 Link to original photo on Flickr.
Mother remained lifelong friends with both John Charles Thomas and Edwin Lester. Mom had reserved 5th row center seats at every LACLO production for life, courtesy of Mr. Lester. He acknowledged that he couldn't have gotten LACLO off the ground were it not for my mom's assistance back in 1938. Lillian Lowney was, indeed, the original Madame of Los Angeles's Civic Light Opera! I'm proud that my mom had this bit part in L.A.'s musical/cultural history, and I'm glad I've finally gotten the opportunity to tell her story here.