At the time of its construction in 1888, the Bryson-Bonebrake Block was without question the most attractive and architecturally-significant office building in Los Angeles.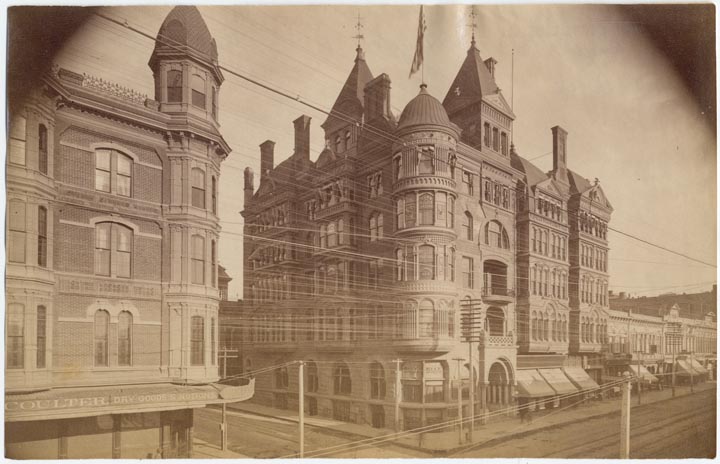 Photo courtesy Floyd Bariscale on Flickr.
Floyd Bariscale
quotes a contemporary source describing the new civic showpiece:
"Designed by Joseph Cather Newsom in 1888, located on the northwest corner on 2nd and Spring in Los Angles. From a 1981 reprint of J.C. Newsom's
Artistic Buildings and Homes of Los Angeles:
'Bryson-Bonebrake Block, commissioned by John Bryson, Sr., Los Angeles Mayor, and Major George H. Bonebrake, banker, this huge office building was Newsom's most ambitious and commercial structure. The Los Angeles Times, September 17, 1888 reports: "At the corner of Second and Springs streets, is one of the largest and most substantial in Southern California, and is most ornamental in appearance. It is six stories and a basement in height, and will contain four stories, one bank, 126 rooms, and a lodgeroom on the sixth floor. It has 120 feet frontage on Spring street and 103 feet frontage on Second steet. The rooms are all large and well ventilated, and the halls are wide and lighted by light wells. The principal features of the building are the massive and elegantly carved stone entrance, with its beautifully grained Colton marble shafts, carved stone caps and base of Moorish design, and the court in the center of the building throwing light into the corridors and inner rooms. The steps of the entrance are of the best granite, and the entrance is tiled and has marble wainscoting. On one side is a large bulletin-board, and on the other a richly-carved staircase with marble steps... The interior of the building is finished in cedar, and the plumbing is of the best... All the offices are heated and lighted with gas, and there are electric bells from each room to the bulletin board on the first floor. The elevator runs from the basement to the sixth floor. There is a fine [sic] hose reel on each floor for use in case of fire. Its cost will be $224,000.'"
More 19th century views of the Bryson block...
Grand opening, 1888 - The Court House on Pound Cake Hill in the distance right of center was also constructed this same year. Also, note how Spring Street originally veered to the right after its intersection with First Street.
Courtesy U.S.C. Digital Library.
Looking west on Second Street from Spring.
Courtesy California State Library.
1905 - A nice close view showing the intricate exterior decorative elements of the Bryson block. Note that the entire original ornate top of the building has been removed and replaced by two additional storeys of offices.
Courtesy U.S.C. Digital Library.
1934 - Only 46 years after its construction, demolition of the Bryson block is underway. An annex building of the Los Angeles Times occupies the site today.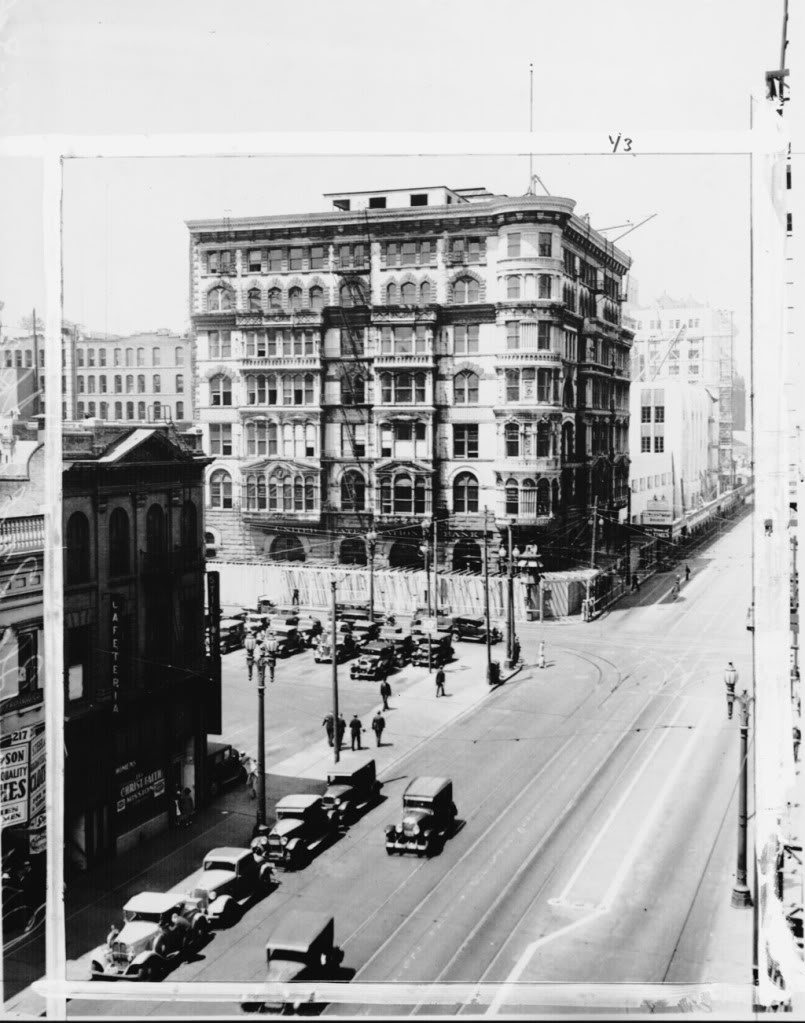 Courtesy U.S.C. Digital Library.