A new treasure! I just got this last week. This is my oldest postcard, probably printed in 1898. Actually, technically it's called a Private Mailing Card (
as you can see
). These were the first privately issued US postcards (from 1873-1898, only the USPS was authorized to produce postal cards).
Anyway, this one shows a hand-colored photo of Spring Street in Los Angeles at its intersection with 2nd Street in the late 1890s.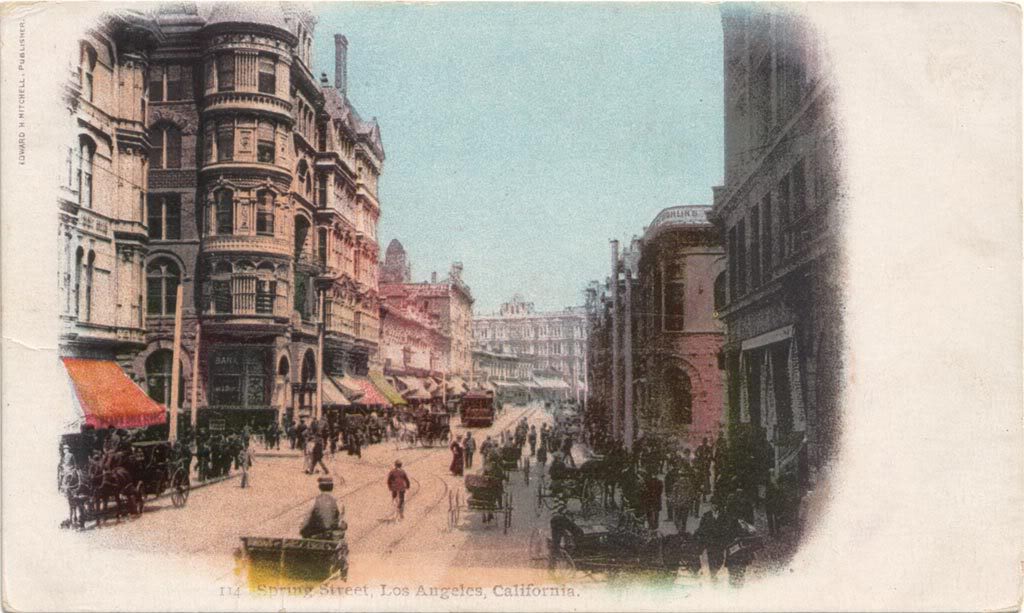 The imposing gabled brick building on the corner at left is the Bryson Block, an important center of commerce in Los Angeles in the last decade of the 19th century. At what looks like the end of the street in the distance is another important early commercial building, the Phillips Block. The dome you see in the background at center left is the top of the tower of the Los Angeles County Court House, and in this photo, the building immediately below it is the old 4-storey Nadeau Hotel, which, when it was built in 1886, was the tallest building in Los Angeles, and was also the site of the city's first passenger elevator.
When construction for the new Los Angeles City Hall was begun in the late 1920s, Spring Street was straightened, passing right through the site of the old Phillips Block. Here's the view north from the intersection of Spring and 2nd Sts. today. Quite a difference, eh?
View Larger Map
Not a single stick or brick of the old buildings from this point north on Spring Street remains today. In fact, they were all long-gone by 1950...